→ July Favourites
I can't believe it's already the end of another month, which means it's time for my July Favourites! I actually don't have too much to share with you guys this month but I have tried out some new products that I've loved. Enjoy!
Beauty/Makeup Favourites
Bath and Body Works Market Peach Candle: No surprise that another candle has managed to make it onto my favourites. The one that I've been burning all month is Market Peach from Bath and Body Works. It has a really nice, but subtle fruity scent, and isn't too overwhelming like some scents can be. It also reminds me a lot of summer because of the peach so it's perfect for this time of year.
Sheet Masks (theSAEM and Nature Repubic): I'm sure I've mentioned sheet masks in a past favourites, but they have been a lifesaver this month. With travel and the stress from work, my skin has been going crazy, and these masks have really helped. I usually use them 1-2 times a week and leave them on for about 20-30min. Instantly when I take them off, my skin looks and feels so much better. They really help to brighten and moisturize the skin. Plus, they're really low maintenence. I usually just leave them on when I'm watching YouTube or cleaning and when 20min has passed I just peel it off and toss it in the garbage. No face washing needed.
Becca Ever-Matte Poreless Priming Perfector: I was at Sephora in Dallas looking for a good primer and the girl there recommended this one from Becca. I actually don't know too much about the brand and have never tried anything from them, but this primer is amazing. I specifically wanted something that would help control oil (which is pretty much a necessity during the summer) and this does just that. You can actually feel how matte it makes your skin feel right when you apply it. Plus, it is very long wearing and keeps your skin matte throughout the day. Seriously a miracle product in my books.
Jetset Blush: For some reason I can't seem to remember what brand this blush is from (it is a Korean brand though) and it isn't labeled on the package, so I've just stuck with calling it the Jetset blush. I love bright blushes for the summertime and this is the one I've been using all month. It has a tiny bit of shimmer which helps to give your face that nice glow, but it isn't overly sparkly. I also love the peachy-pink colour, which happens to fit my skin tone perfectly, and the fact that it comes with this adorable puff (that I never use but keep in there anyways because it looks cute).
→ July Asks
→ Review: Kat Von D Tattoo Liner
Kat Von D Tattoo Liner in Trooper (Retail: $23, 0.60mL)
I feel like I'm constantly on the hunt for a really amazing liquid eyeliner, and the new one I've been trying out lately is this one from Kat Von D. It seems to be a cult favourite in the beauty community and after hearing so many people rave about it, I figured I'd give it a shot.
This liner claims to be waterproof, highly pigmented and is supposed to last all day without running or fading. Unlike eyeliners I've tried in the past, the tip is a brush tip, not a felt tip. This is perfect because it won't fray, and the brush tip is much more precise. It also doesn't tug at your eyes like some felt tip liners do.
Size wise, this liner comes with approximately 60mL of product, which is fairly standard. It is a bit on the pricey side compared to drugstore eyeliners, but in terms of higher end, it's on par price-wise with other liners. The packaging is sleek and one of the things I love about it is the cap. It is spring loaded so you have to press pretty hard to close it, which is perfect for me because there's no risk of me leaving it partially open by accident and having it dry up.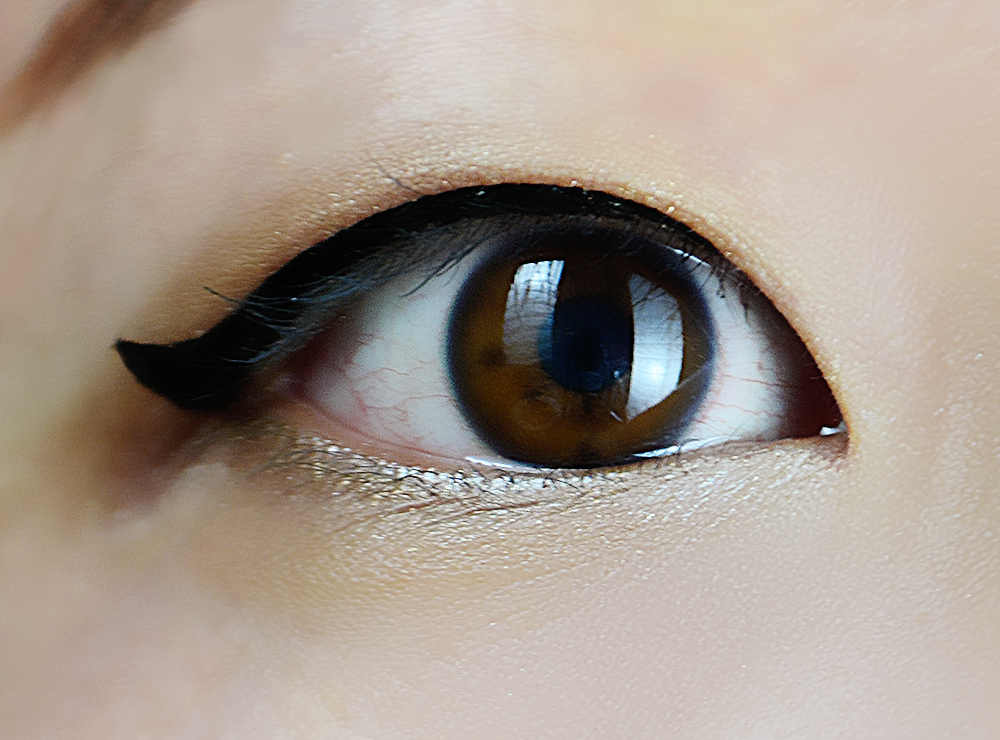 Application: In terms of application, I do feel like it takes some time to get used to, especially if you're more accustomed to using stiffer, felt tip liners like me. The brush tip is very flexible, almost too flexible, so you really need to be careful when applying. But like the product claims, it has a very fine tip which makes winged liner a breeze. It also applies very dark and dries quickly. 
On the other hand, if you happen to make a mistake, it is pretty difficult to remove. You can't just rub it away with tissue, you actually will need makeup remover. Because of that, I wouldn't recommend it for someone who is just starting out with make up.
Pros:
Highly pigmented, smooth application, very fine brush tip and doesn't tug at the eyes
Very long lasting, and doesn't smudge or flake off even through my sometimes 10+ hour work days
Waterproof, but only to a certain extent. It won't run if your eyes get wet, but it will smudge if you rub hard enough
Quick drying which is a must for my monolid eyes!
Cons:
Difficult to remove if you make a mistake (not recommended for beginners)
Hard to use at first because the brush is so flexible
Overall: 4.5/5
I think I may have found my new favourite eyeliner. This product is everything I've been looking for, very dark, long lasting and waterproof. It is a bit more expensive than liners I've purchased in the past but I definitely feel like it's worth it. I would repurchase for sure and would recommend it to anyone looking for a good liquid liner to try.
This is not a sponsored post.
1
2
3
4
5
Next »